Seventh Sunday in Ordinary Time
Celebrate Black History Month
Honor, Remember, Inspire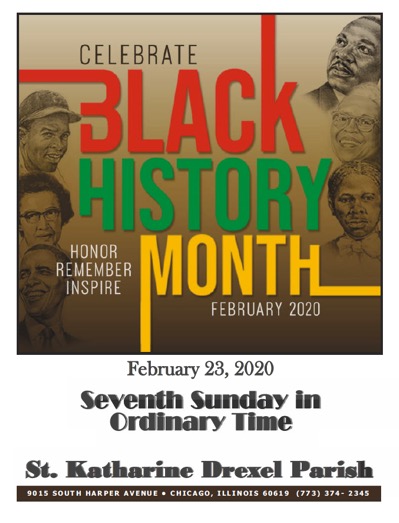 Pastor's Notes
The season of Lent is quickly approaching with Ash Wednesday on February 26th. Mass with distribution of ashes will be celebrated at 8:30 a.m. with our school children and at 7:00 p.m. Ashes will not be available outside of these times. If you cannot make it here for Mass, please consider going to a church near you. Remember! Ash Wednesday if a day of fast and abstinence. Please see the Lenten guidelines in today's bulletin.
Next Sunday, March 1st, there is only one Mass at 10 a.m. Bishop Joseph Perry is the celebrant and homilist for the day. Following the Mass, we will gather for a reception in the Parish Hall to celebrate Mrs. Loma Dagley's 100th birthday and Sr. Evelyn who will be leaving our community to minister in the Philippines. Please join us for Mass and the reception!
The SKD Inspirational Choir will be singing at St. Benedict the African Parish, (corner of 66th St. and Stewart), on Monday, March 2nd at 7:00 p.m. for their "On Time God" revival. Sr. Jane Nesmith, SBS, is the revival preacher. Please come out and support our choir and worship with our sister parish in Englewood.