Third Sunday in Advent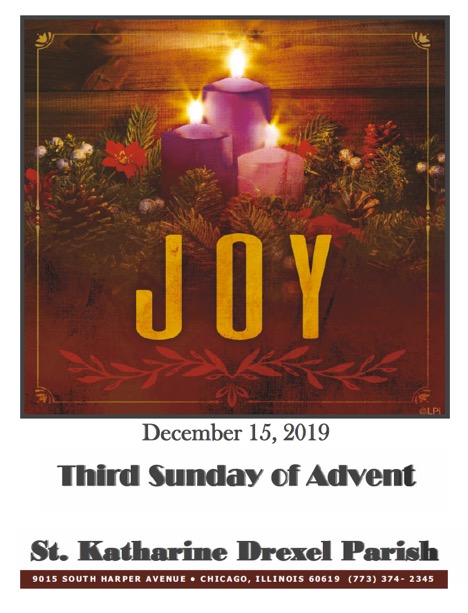 The Knights of Peter Claver and Ladies Auxiliary Junior Daughters—Court # 181 is sponsoring a Christmas Bazaar, Bake Sale and Breakfast with Santa on Sunday, December 15th in the Parish Hall from 9:00 a.m. until 2:00 p.m. The donation is $10.00 for adults and $5.00 for children under 7 years old. Vendors are welcome to participate! Please see the flyer in the bulletin for further information. The proceeds of this event help to defray the costs for our Junior Knights and Daughters to attend their annual conference and convention. Please support them in this fundraising endeavor!
Following the Mass on Sunday, December 29th, we will celebrate Kwanzaa in the Parish Hall. We are in need of food items! The Parish will provide the meat. Please donate side items to help complete the meal. Sign-up sheets are on the table in the narthex. If you are able to donate an item, please sign-up. Thanks in advance for your contribution.
The Parish Office will close at Noon on Christmas Eve and remain closed for the rest of the week in observance of the Christmas holiday. The office will re-open for regular business hours on Monday, December 30th. In the case of an emergency, please call the office as usual and let the phone attendant know this and I will then be notified.