Thirty-Second Sunday in Ordinary Time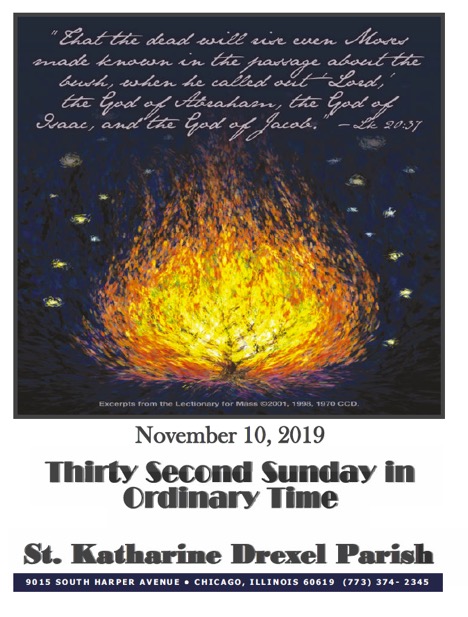 "That the dead will rise even Moses made known in the passage about the bush, when he called out 'Lord, the God of Abraham, the God of Issac, and the God of Jacob'" – Luke 20:37
Pastor's Notes
The Youth on the Move "Masquerade Gala" is Sunday, November 10th, at 4 p.m., at Tuscany Fall Banquets, 9425 W. 191st Street, in Mokena, IL. Remember! The proceeds of this Gala will help to fund the youth mission trip to New Orleans in July 2020. Donations are gratefully accepted if you cannot participate. I look forward to seeing you there!
The Parish Office will be closed on Monday, November 11th in observance of Veterans Day. The office will resume regular business hours on Tuesday. The daily Mass will be held in the church as usual on Monday with the school children.
There will be a youth Mass on Sunday, November 17th at 1:00 a.m. Our youth will be in charge of the ministries. Please come and support our youth as they share their gifts with us!
Thanksgiving Day is Thursday, November 28th. Mass will be celebrated in the church at 10 a.m. Please join us as we gather to thank our loving and generous God for the blessings we have received this past year.