Sixth Sunday in Ordinary Time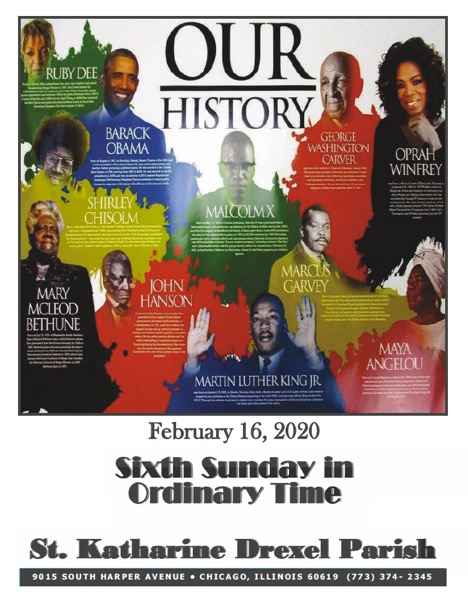 Pastor's Notes
The season of Lent is quickly approaching with Ash Wednesday on February 26th. Mass with distribution of ashes will be celebrated at 8:30 a.m. with our school children and at 7:00 p.m. Ashes will not be available outside of these times. If you cannot make it here for Mass, please consider going to a church near you. Remember! Ash Wednesday if a day of fast and abstinence. Please see the Lenten guidelines in today's bulletin.
The First Sunday of Lent is March 1st. There is only one Mass that day at 10 a.m. Bishop Joseph Perry is the celebrant and preacher for the day. Please mark your calendar!
Congratulations to the following honorees of this year's Archbishop James P. Lyke African American Male Image Awards: Al Davis, Deacon Roscoe Dixon, Roland Royal, Jean Voltaire and college scholarship recipients: Nicholas Amuh, Andre Johnson and Elijah Pierre Toussaint. These men will receive their awards on Sunday, February 23rd at a 2 p.m. luncheon at Georgios Banquets. The ticket donation is $50. Please support the Knights of Peter Claver, Ladies Auxiliary Court #181 in their annual fundraiser. See any of the honorees or Dedra Delaney to purchase tickets.