Thirtieth Sunday in Ordinary Time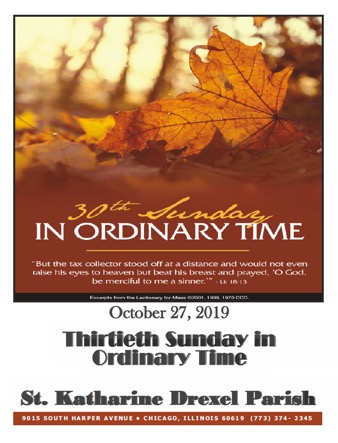 "But the tax collector stood off at a distance and would not even raise his eyes to heaven but beat his breast and prayed, O' God, be merciful to me a sinner."
-Luke 18:13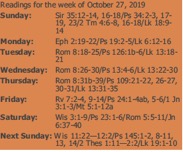 Pastor's Notes
Friday, November 1st is the Solemnity of All Saints. It is a holy day of obligation. Mass will be celebrated with the school children at 8:30 a.m. ALL are welcome to attend!
Join us on Saturday, November 2nd as we celebrate the Feast of all the Faithful Departed (All Souls). Mass will be celebrated at 10:00 a.m. and will be followed by brunch in the parish hall. We will remember all parishioners who have died since November 2018.
Make a Note! Daylight Saving time ends on Sunday, November 3rd. Remember to set your clocks back before going to bed!
Remember! There is only one Mass on Sunday, November 10th at 10 a.m. Please mark your calendar! Everyone is encourage to support our Youth by attending the Masquerade Gala that same afternoon at 4 p.m. The proceeds from the Gala will be used to assist our Youth as they travel to New Orleans next summer for a service project. If you cannot attend, donations are gratefully accepted!