Twenty-Seventh Sunday in Ordinary Time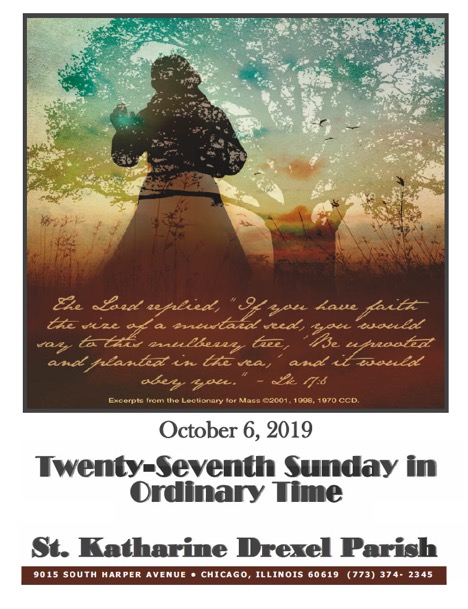 The Lord replied, "If you have faith the size of a mustard seed, you would say to the mulberry tree, 'Be uprooted and planted in the sea,' and it would obey you."
– Luke 17:6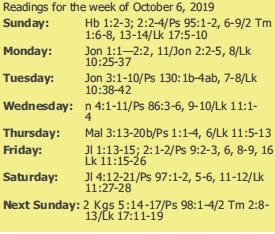 Pastor's Notes
Reminder! Mass on Sunday, October 13th is at 10 a.m. Cardinal Cupich and Bishop Perry will be here with us for a pastoral visit. Please be on time!
Reminder! The October Count has begun. ALL parishioners are asked to be present at one of the weekend Masses so that you may be counted. Thanks for your cooperation.
The Sunday School program has begun! If your child is in need of one of the sacraments, he/she should be enrolled in Sunday School. Please see the flyer in the bulletin for further information.
You are invited to a Mass to be celebrated by Cardinal Cupich in commemoration of Fr. Augustus Tolton being named "Venerable" on Monday, October 14, at St. Philip Neri Church, 2132 E. 72nd Street at 7:30 p.m. Buses will leave St. Katharine Drexel at 6:00 and 6:30 p.m.
The Pilgrim Virgin Rosary Group will recite the rosary in the church daily at 1 p.m., (Monday- Friday), throughout the month of October. ALL are welcome to participate!
A second collection will be taken at all Masses on the weekend of Oct. 19-20 as we celebrate World Mission Sunday. Please be generous.