August 18th, 2019 – Twentieth Sunday in Ordinary Time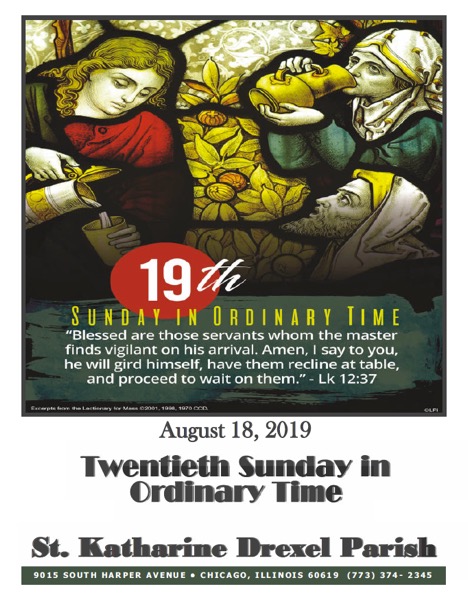 Blessed are those servants whom the master finds vigilant on his arrival. Amen, I say to you, he will gird himself, have them recline at the table, and proceed to wait on them. – Luke 12:37
Pastor's Notes
"Thank You" to Kathy Wallace and the many volunteers who helped to make Family Fun Day a wonderful success! A lot of hard work went into preparing the day, but in the end, it was very enjoyable. I am grateful to all who came out to fellowship and who brought family and friends to the gathering. We look forward to making the event even more spectacular next year! Stay tuned for next summer's date!
St. Ailbe School registration is currently underway. If you are interested in enrolling your child or children, please contact the school office. Classes begin on Monday, August 19th.
"Faith Sharing" has resumed! We meet on Wednesday in the Imani Room at 10:00 a.m. and at 6:30 p.m. All are welcome to participate.
Please join the Emergency Food Pantry volunteers for the annual "Hunger Walk" in Jackson Park on Saturday, September 7th. More information will be forthcoming.