26th Sunday in Ordinary Time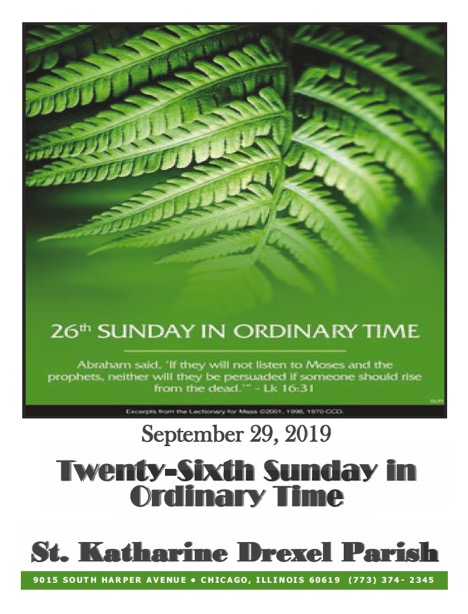 Abraham said, "If they will not listen to Moses and the prophets, neither will they be persuaded if someone should rise from the dead." – Luke 16:31
Pastor's Notes
Mark your Calendar! Family Fun Night is Friday, October 4th beginning at 6 p.m. in the Parish Hall. There will be movies, games, food and lots of fun for the entire family. Please come and join in on the fun! We're gathering Jus B-Cuz!
It's that time again! Sunday School and the RCIA are getting ready to begin. Our education as Catholics is important. Parents, please enroll your children in the Sunday School program especially if they do not attend a Catholic school. See the flyers in the bulletin for further information.
The Pilgrim Virgin Rosary Group will recite the rosary in the church daily at 1 p.m., (Monday-Friday), throughout the month of October. ALL are welcome to participate!
You are invited to a Mass to be celebrated by Cardinal Cupich in commemoration of Fr. Augustus Tolton being named "Venerable" on Monday, October 14, at St. Philip Neri Church, 2132 E. 72nd Street at 7:30 p.m. Carpooling is suggested due to limited parking.
_______________________