Grand Parents Day!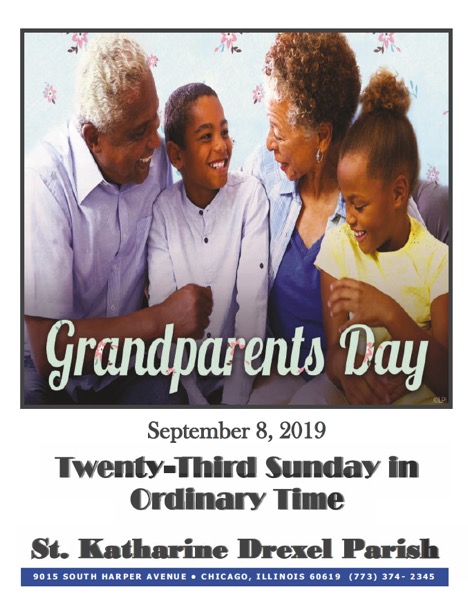 Pastor's Notes
RCIA is getting ready to begin. Our education as Catholics is important. Parents, please enroll your children in the Sunday School program especially if they do not attend a Catholic school. See the flyers in the bulletin for further information.
There will be an adult-only Cabaret on Saturday, September 21, 2019, from 6:30 until 11p.m. in the Parish Hall. The guest DJ is Mr. Leon Rogers of WGCI, 107.5 FM-"The Morning Show". The event is B.Y.O.B. Set-ups will be sold. Invite your family and friends to join you at your table. We are gathering "Jus BCuz!"
You are invited to a Mass to be celebrated by Cardinal Cupich in commemoration of Fr. Augustus Tolton being named "Venerable" on Monday, October 14, at St. Philip Neri Church, 2132 E. 72nd Street at 7:30 p.m. Carpooling is suggested due to limited parking.
A second collection will be taken at all Masses the weekend of September 21-22. This collection will support the ministry of Mundelein Seminary as it educates seminarians for the Archdiocese. Please be generous!