Fifth Sunday in Ordinary Time
Simon said in reply, "Master, we have worked hard all night and have caught nothing, but at your command, I will lower the nets." When they had done this, they caught a great number of fish and their nets were tearing. – Luke 5:5-6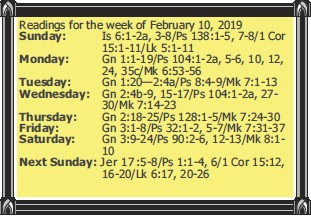 Pastor's Notes
Sunday, March 3rd is the Solemnity of St. Katharine Drexel. There will be only one Mass that day at 10:00 a.m. Sr. Jane Nesmith, will be our guest speaker. A potluck luncheon will follow in the parish hall immediately after the Mass. Please mark your calendars!
Youth on the Move is back with its highly anticipated Motown Live Fundraiser on Sunday, February 17th at 2 p.m. Tickets for the event will be sold in the vestibule immediately following the Masses this weekend.
The parish office will be closed on Monday, February 18th in observance of Presidents' Day. The office will resume its usual business hours on Tuesday, February 19th.
A Memorial Mass will be celebrated on Tuesday, February 19th as we observe the first anniversary of Fr. Duris' death. The mass will be celebrated at 7:00 p.m. All are welcome to attend!