6th Sunday in Ordinary Time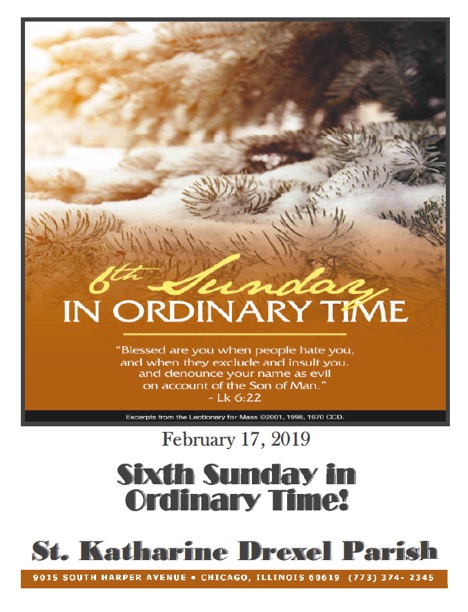 "Blessed are you when people hate you, and when they exclude and insult you, and denounce your name as evil on account of the Son of Man." – Luke 6:22
Pastor's Notes
The parish office will be closed on Monday, February 18th in observance of Presidents' Day. The office will resume its usual business hours on Tuesday, February 19th.
A Memorial Mass will be celebrated on Tuesday, February 19th as we observe the first anniversary of Fr. Duris' death. The mass will be celebrated at 7:00 p.m. All are welcome to attend!
Sunday, March 3rd is the Solemnity of St. Katharine Drexel. There will be only one Mass that day at 10:00 a.m. Sr. Jane Nesmith, will be our guest speaker. A potluck luncheon will follow in the parish hall immediately after the Mass. Please mark your calendars!
The Lenten season begins with Ash Wednesday, March 6th. Masses with the distribution of ashes will take place at 8:30 a.m. in the church and at 7:00 p.m. Further information will be forthcoming regarding Lenten activities at our parish. Stay Tuned!