4th Sunday in Ordinary Time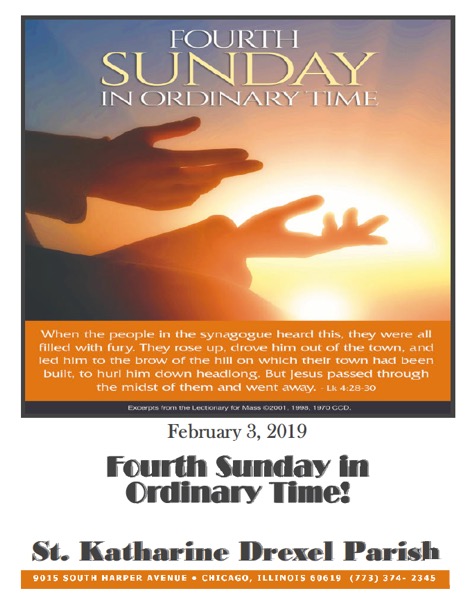 When the people in the synagogue heard this, they were all filled with fury. They rose up, drove him out of the town and led him to the brow of the hill on which their town had been built to hurl him down headlong. But Jesus passed through the midst of them and went away. -Luke 4:28-30
Pastor's Notes
Sunday, February 10th is World Marriage Day! At all Masses that weekend, married couples are invited and encouraged to renew their wedding vows and receive a special blessing. If you wish to dress formally for the event, please do so. Hospitality will be provided after each Mass!
Youth on the Move is back with its highly anticipated Motown Live Fundraiser on Sunday, February 17th at 1 p.m. Tickets for the event will be sold in the vestibule immediately following the Masses this weekend.
The parish office will be closed on Monday, February 18th in observance of Presidents' Day. The office will resume its usual business hours on Tuesday, February 19th.
A Memorial Mass will be celebrated on Tuesday, February 19th as we observe the first anniversary of Fr. Duris' death. The mass will be celebrated at 7:00 p.m. All are welcome to attend.