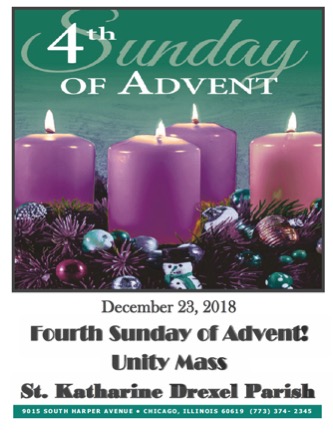 Pastor's Notes
Please be mindful of the ChristmasMass schedule that is found in today's Parish Bulletin! The times for Masses for the next two weeks are located on the schedule. Please invite your family and friends to join us in celebrating Christmas and the various feasts that follow.
Next weekend, December 30th, we will come together permanently under one roof. After months of prayer, fellowship, and planning, St. Katharine Drexel parishioners will now worship together. I recognize the anger, disappointment, sadness and other emotions that are present among some, but I am also aware of the hope and even the joy that some people exude at the thought of what God is about to do for us as a new faith community. We, the People of God, are the Church! May God bless us one and all!Let the Church say, Amen!
ALL families will receive a special blessing as we gather for the Unification Mass at the St. Ailbe worship-site at10:00 a.m. on the Feast of the Holy Family, December 30th. Families are strongly encouraged to worship together on that day.