Fifth Sunday in Ordinary Time – World Marriage Day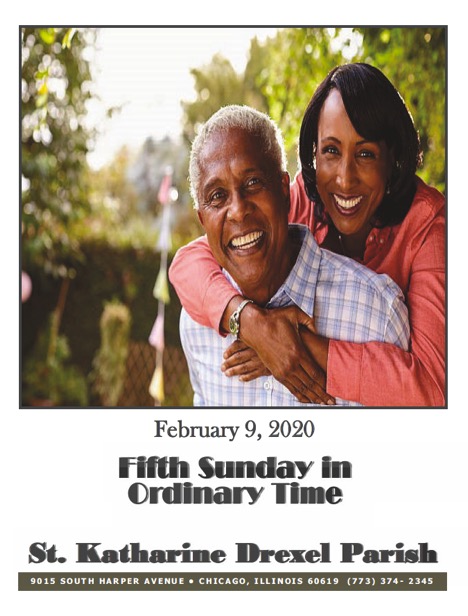 Pastor's Notes
Leaders of all parish ministries are asked to attend a meeting with Fr. Paul on Tuesday, February 11th at 7 pm. In the Imani Room. There are several important matters that need to be discussed. Please be on time!
Congratulations to the following honorees of this year's Archbishop James P. Lyke African American Male Image Awards: Al Davis, Deacon Roscoe Dixon, Roland Royal, Jean Voltaire and college scholarship recipients: Nicholas Amuh, Andre Johnson and Elijah Pierre-Toussaint. These men will receive their awards on Sunday, February 23rd at a 2 p.m. luncheon at Georgios Banquets. The ticket donation is $50. Please support the Knights of Peter Claver, Ladies Auxiliary Court #181 in their annual fundraiser. See any of the honorees or Dedra Delaney to purchase tickets.
The First Sunday of Lent is March 1st. There is only one Mass that day at 10 a.m. Bishop Joseph Perry is the celebrant and preacher for the day. Please mark your calendar!
The Annual Catholic Appeal is about to begin. This is the fundraising activity that the Archdiocese sponsors annually to support its various ministries. All parishioners are asked to make a financial commitment in support of this effort. The commitment weekend is Feb. 15-16. Thanks in advance for your generosity!