2nd Sunday of Lent 2019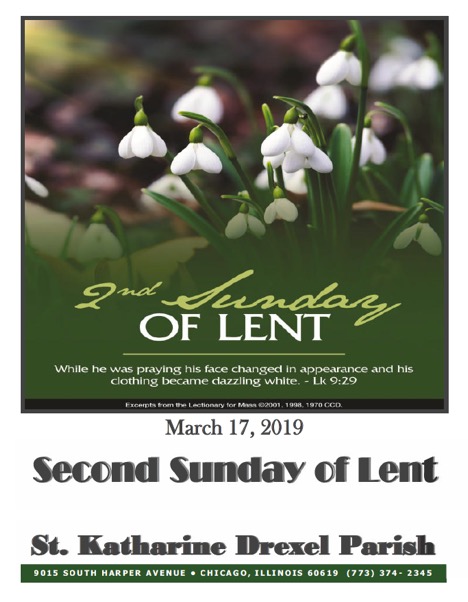 While he was praying his face changed in appearance and his clothing became dazzling white. – Luke 9:29
Pastor's Notes
The parish's Lenten revival is scheduled for March 24-26. This revival is an opportunity to renew our spiritual selves as we journey through Lent. The first night is dedicated to youth and young adults. Please plan to participate in the revival and spread the word to your friends and family. See the flyer in the bulletin for further information.
The Living Stations of the Cross will be presented in the Church on Friday, April 12th and Good Friday, April 19th at 7:00 p.m. The Living Stations' cast is hard at work practicing for these presentations. Please plan to join us on these two evenings as we meditate and reflect on Jesus' final hours of earthly life.
If you have not received the Sacrament of Confirmation, please complete the flyer in the bulletin! Classes will be forming soon.
Checks may now be written payable to St. Katharine Drexel Parish. Thank you for your patience during this transition!