5th Sunday of Lent
Jesus said, "Neither do I condemn you. Go, and from now on do not sin any more." -John 8:11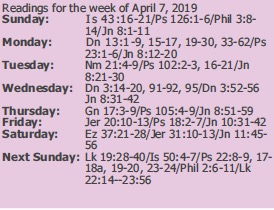 Pastor's Notes
The Living Stations of the Cross will be presented in the Church on Friday, April 12th and Good Friday, April 19th at 7:00 p.m. The Living Stations' cast is hard at work practicing for these presentations. Please plan to join us on these two evenings as we meditate and reflect on Jesus' final hours of earthly life.
There will be only one Mass at 10:00 a.m. on Palm Sunday, April 14th as we begin Holy Week. The blessing of palms will take place in the parish hall and we will process into the church afterwards. Please make a special effort to be on time for this liturgy as we anticipate a full church! You are encouraged to wear red this day! See the Flyer in the bulletin for the Holy Week schedule!
On Holy Thursday, April 18th, there will be a Pot Luck Supper at 5:00 p.m. in the Parish Hall prior to the celebration of the Mass of the Lord's Supper at 7:00 p.m. We are in need of food donations! If you are able and willing to assist us, please sign up on the sheets on the table in the vestibule. The parish will provide the meat entrée. Thanks in advance for your generosity!