Thirty-First Sunday in Ordinary Time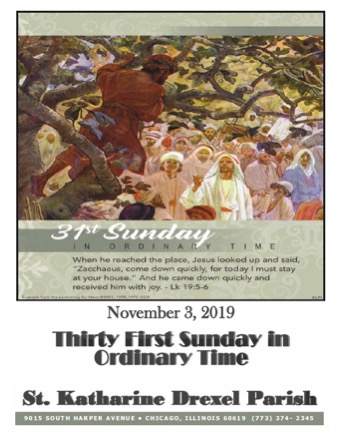 When he reached the place, Jesus looked up and said, "Zaccheus, come down quickly, for today I must stay at your house." And he came down quickly and received him with joy! – Luke 19: 5 – 6
Pastor's Notes
Remember! There is only one Mass on Sunday, November 10th at 10 a.m. Please mark your calendar! Everyone is encouraged to support our Youth by attending the Masquerade Gala that same afternoon at 4 p.m. The proceeds from the Gala will be used to assist our Youth as they travel to New Orleans next summer for a service project. If you cannot attend, donations are gratefully accepted!
Thanksgiving Day is Thursday, November 28th. Mass will be celebrated in the church at 10 a.m. Please join us as we gather to thank our loving and generous God for the blessings we have received this past year.
"Thank You" to all who were faithful in attending one of the Masses each weekend during the month of October. The average attendance for our parish was considerably down, given the fact that we are now under one roof. As I've stated before, these counts are very important. I encourage you to make every effort to be in church on the weekend. God misses you when you're away, and so do we!