Second Sunday in Ordinary Time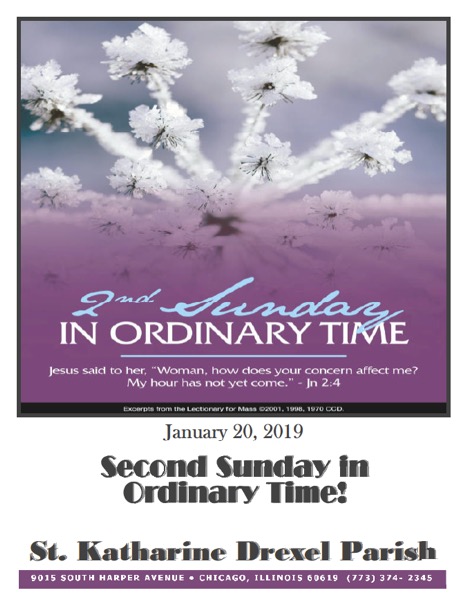 Jesus said to her, "Woman, how does your concern affect me? My hour has not yet come." – John 2:4
Pastor's Notes
Youth on the Move is back with its highly anticipated Motown Live Fundraiser on Sunday, February 17th at 1 p.m. Tickets for the event will be sold in the vestibule immediately following the Masses this weekend.
The Parish Office will be closed on Monday, January 21st in honor of the Rev. Dr. Martin Luther King, Jr. holiday. The office will reopen for regular business hours on Tuesday, January 22nd.
Please listen to Chicago Catholic Radio, 750 am WNDZ every Tuesday from 8:008:30 a.m., when our deacon, John Cook, hosts a weekly program that highlights the Black Catholic community of Chicago. This past week, Fr. Paul was the guest speaking about our parish, St. Katharine Drexel. Listen live or see archives @ http://legacy.archchicago.org/radioTV/ Programs/BlackCatholicInitiative/.