Third Sunday of Easter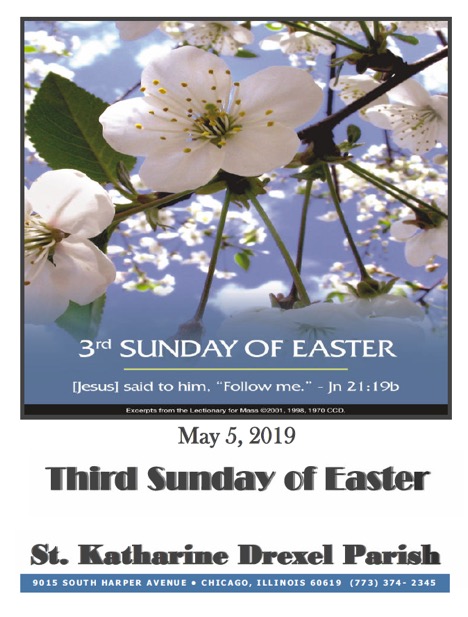 Jesus said to him, "Follow Me." – John 21:19b
Pastor's Notes
The month of May is dedicated to the Blessed Mother. At our Masses this weekend, we celebrate the "Crowning of the Virgin Mary" as Queen of Heaven and earth. Let us invoke Mary's intercession for our world, our faith community, and our families. May Mary intercede on our behalf with her Son, so that we may each experience the fullness of Easter joy! God bless you.
The rosary is being prayed Monday through Friday in the church at 1:00 p.m. through the end of May. ALL are welcome to participate.
Mother's Day is next weekend! There will be a guest speaker and guest soloist at the 8:00 and 11:00 Masses. Please bring your mothers to church to celebrate this special day!
Don't forget the clothing and household item fundraiser on Saturday, May 11th! Your donations of clothing and household items help to support the Emergency Food Pantry. A truck will be here in the parking lot to receive your donations from 8:00-11:00 a.m.