Feast of the Holy Family, December 31, 2017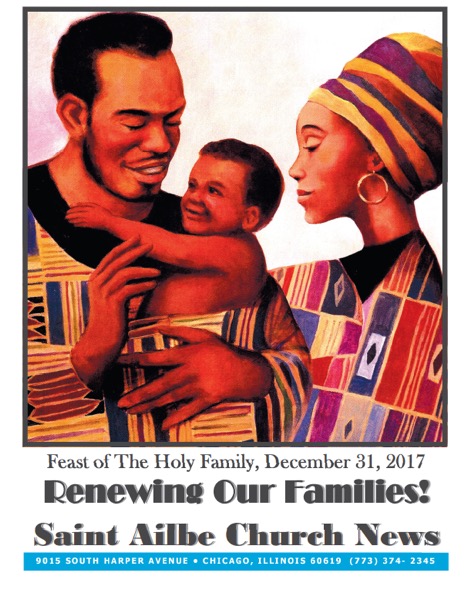 Renewing Our Families
Holy Family is the term or title we use to refer to describe the human family of the Son of God Jesus, Mary and Joseph.
We appropriately celebrate this Feast on the Sunday after Christmas. The Christmas feast centers on this special family, their mission, their journey, their courage and faithfulness. Our many "FAMILY Celebrations and Church Celebrations, including our Kwanzaa Celebration this past week, connect us to rich and deep family ideals and values!
We celebrate the event of Christmas GOD WITH US by gathering with our own families, sharing in food and fellowship, giving of gifts, and telling the stories of our own family journeys and challenges, failures, disappointments, blessings, hopes and joys!
Living together as "family" is a challenge. The Scriptures today offer us wisdom for making it happen! Paul encourages us to "Put on, as God's Chosen ones, holy and beloved, heartfelt compassion, kindness, humility, gentleness, and patience, bearing with one another, and forgiving one another. And over all of these put on Love! And let the Peace of Christ control your hearts!"  What else do we need?
The values that come from our faith and cultural backgrounds provide the tools to counteract negatives influences, and sustain us on a path that will insure justice and peace, guidance and love for all our people!