Pentecost Sunday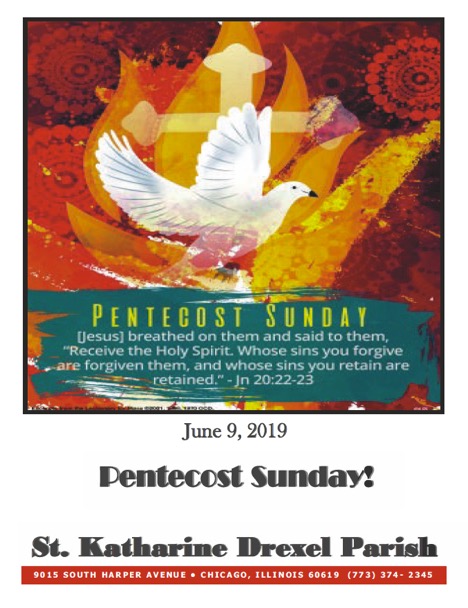 Jesus breathed on them and said to them, "Receive the Holy Spirit Whose Sins you forgive are forgiven them, and whose sins you retain are retained."
-John 20:22-23
Pastor's Notes
Father's Day is right around the corner! We will celebrate all Fathers at the Masses on June 15-16. We will also thank Fr. Patrick for his service to our community that same weekend.
Beginning Friday, June 14th, the Parish Office will close at Noon on Fridays through August 16th. Please mark your calendars!
Sunday, June 30th there will only be one Mass at 10:00 am. Also, dedication for street sign in honor of Father Larry Duris and an ice cream social will be held in the Church Hall after the celebration. Alderman Michelle Harris will be with us for the celebration.
Mark your calendar! Men's Emmaus Retreat, October 18th-20th, 2019. If you are interested in participating, please contact Sidney Davis, (708) 712-2988 or Bob Watkins, (773) 935-6804.
Readings