Thirty-Third Sunday in Ordinary Time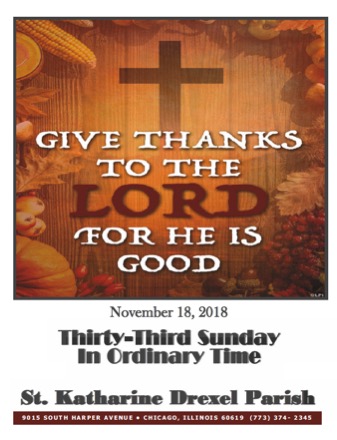 Give Thanks to the LORD for He is good
The Parish Offices at our three worship sites will close at Noon on Wednesday, November 21st and will remain closed through November 25th. The offices will re-open for regular business hours on Monday, November 26th. Please make a note of this!
Mass on Thanksgiving Day, November 22nd, will be celebrated at the St. Ailbe worship-site at 10:00 a.m. All parishioners are encouraged to join us as we thank God for blessings received during the past year.
Daily Mass on Friday, November 23rd, will not be celebrated in the rectory chapel. The daily Mass will resume on Monday, November 26th.
Saturday, December 8th is the solemnity of the Immaculate Conception, the patroness of our country. It is a holy day of obligation! Mass will be celebrated at 9:00 a.m. in the church at the St. Ailbe worship-site. Please mark your calendars! Note: This Mass does not count for your attendance at Sunday Mass!