29th Sunday in Ordinary Time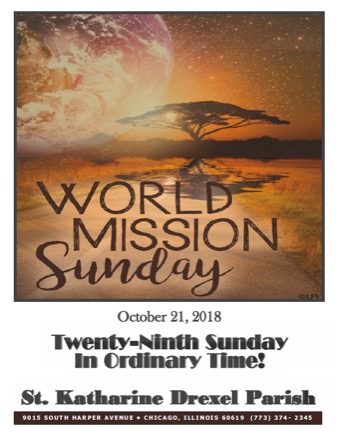 Readings

Pastor's Notes
Mass for All Saint Day, November 1st, will be at 8:30 a.m. in the Church. It is a Holy Day of Obligation. There will be no evening Mass for that feast, due to choir rehearsal.
Mass for All Souls Day, November 2nd, will be at 8:30 a.m. in the Church. There will be an All Souls Day prayer service at 6:30 p.m. in the church. Remember and Pray for your special loved ones.
On Sunday, November 4th, we will celebrate a Unity Mass at 10:00 a.m. at St. Katherine Drexel Parish – St. Ailbe site. Masses will not be celebrated at the St. Felicitas or St. Joachim worship sites that day. Our guest celebrant and preacher is Redemptorist Fr. Maurice Nutt. All parishioners are strongly encouraged to attend this unity liturgy. Please invite your family and friends to join us!