26th Sunday in Ordinary Time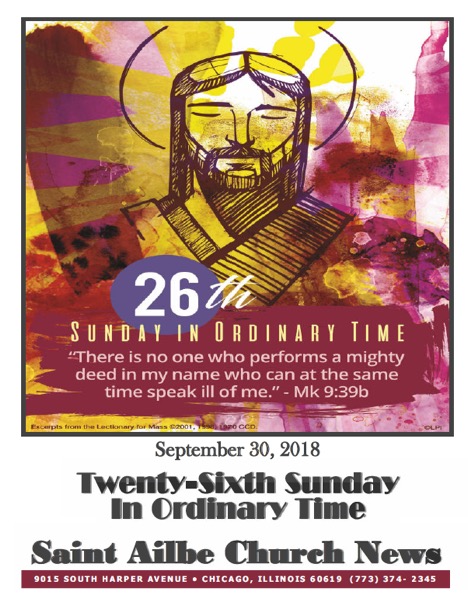 There is no one who performs a mighty deed in my name who can at the same time speak ill of me.
– Mark 9:39
Pastor's Notes
·  October is fast approaching so be mindful that the October counts begin the weekend of October 6th and 7th. Please make sure that you are present in Church, so that you can be counted.
·  Fathers Paul and Patrick will be attending the Renew My Church Summit in Rosemont from Monday through Wednesday, Oct. 1–3. Instead of daily Mass, Sr. Judy and Sr. Kate will conduct a Communion Service in the rectory chapel. Daily Mass will resume on Thursday, Oct. 4th.
·  The parish office will be closed at each worship site on Monday, Oct. 8th in observance of the Columbus Day holiday. Regular office hours will resume on Tuesday, Oct. 9th. Mass will be celebrated in the rectory chapel on Oct. 8th.
·  We will celebrate Family and Friends' Day at all Masses on the weekend of Oct. 20th and 21st. Please invite your family and friends to join you for worship.