First Sunday of Lent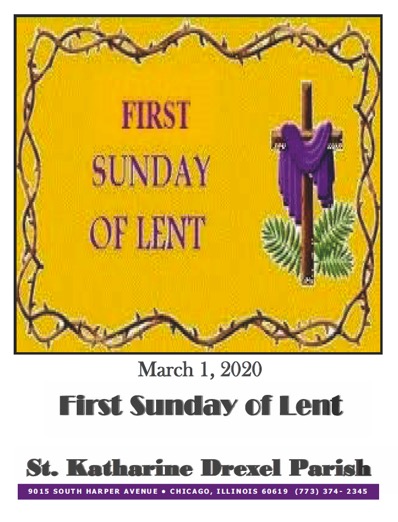 Pastor's Notes
We welcome Bishop Perry to our parish today! I am grateful to Bishop Perry for his support of our parish and for all of his efforts on behalf of the people of African descent on the south side. We appreciate you, Bishop, and wish you well in your ministry to the People of God.
Thanks to the Ladies Auxiliary and the Junior Daughters of the Knights of Peter Claver, Court # 181 for such a wonderful celebration last Sunday at Georgios Banquets. Congratulations once again to the men from our parish who were honored and to all parishioners who supported them by purchasing tickets or making a donation to support the event. It was good to be with all of you!
On Sunday, March 15th, we will celebrate the women of our parish at the 8:00 and 11 a.m. Masses. Sister Anita Baird, DHM, will be the speaker. As we celebrate Women's History Month, let us thank God for the many women who have made great contributions to our society and church.