18th Sunday in Ordinary Time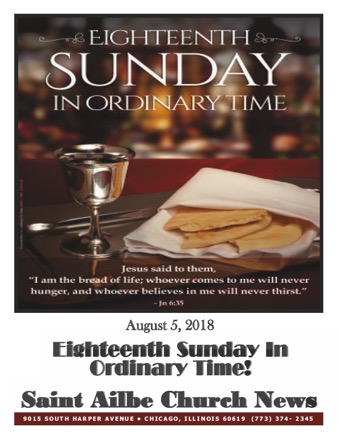 Jesus said to them, "I Am the Bread of Life," whoever comes to me will never hunger, and whoever believes in me will never thirst. – John 6:35
Pastor's Notes
Wednesday, August 15th is the solemnity of the Assumption of the Blessed Virgin Mary. It is a holy day of obligation. Masses will only be celebrated at St. Ailbe Church at 8:30 a.m. and 6:30 p.m. Please spread the word!
The Black Catholic Deacons of Chicago are hosting a Sunrise Mass to pray for non-violence in our hearts, families, schools and streets on Saturday, August 25th at Oakwood Beach, 41st St. and Lakeshore Drive, beginning at 6:30 a.m. In the event of heavy rain, the Mass will be moved to Holy Angels Church at 615 East Oakwood Blvd., Chicago, IL. All are invited to participate!
Please bring your own lawn chairs for seating during the Mass.